PS5 vs. initial devkit vs. previous models
If you are a PS5 or an Xbox Series X fan, you must have read at least one article about the differences between the two models. However, let's try something different this time and see the differences between Sony's last console and its predecessors. What made the PlayStation series stand out? How did the PlayStation devkits look initially vs. the final product? 
PS5 vs. previous models
Sony is all for a good looking final product. Therefore, in general, devkits don't look very remarkable, and since they are not for sale, why would the company bother? One of the PlayStations that resembled the final product was the PS2 console. Although it was very boxlike, the second generation of PlayStation was the best-sold console of all time. People have bought over 155 million units. 
Here is an image of the PS3, PS4, and PS5, in both devkit and final product version.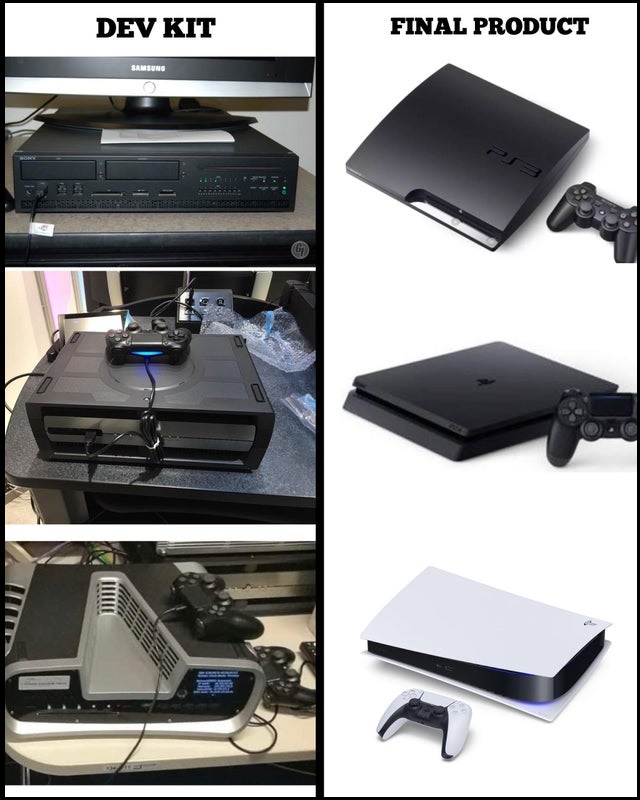 As you can probably already tell from the photo above, the devkits are very refined. Sony has clearly created them for function over aesthetics. However, you can also see the difference when compared to the final results. The final products are more smooth and slightly elegant; however, nothing revolutionary. The PS5 devkit is a different story. When the first reports popped up on the internet, we believed Sony has stuck to the same format. However, after a few months, we were blown away. 
PS5 vs. initial devkit
When the "strange" PS5 devkit design was leaked, we thought it couldn't be real. The devkit looked changed entirely, no longer evolutionary but revolutionary. Besides the new futuristic look, Sony has included a V-shaped cutout, which is a nice touch since this is the fifth of the series. Another thing that came as a surprise was the large air vents. The leaked PS5 devkit images have become a new "muse" for some creators who have tried to guess the console's final look. However, almost none of them are similar to what Sony had in mind. 
Compared to the previous PlayStation consoles, Sony has really surpassed the expectations this time. The new PS5 design is impeccable and eye-catching, but most importantly, customizable. If you are not a fan of the pointy plates, you can change them to your liking. Although its size is still quite big, the console shaped like a router is outstanding. The final design for PS5 looks nothing like the devkit nor its predecessors. 
PlayStation 6
This only makes us wonder how PS6 will look like? Sony has raised the expectations now with the next-gen PS5 console. We are quite sure the PS6 will have an even more elevated design. So far, the next Sony console is expected to come out by the year 2027. One thing to keep in mind is that the PS6 devkit will look nothing like the final product.